The current situation of junca Cash
Dear all junca Platform Project supporters,
Today, we would like to explain the price transition of JCC(junca Cash).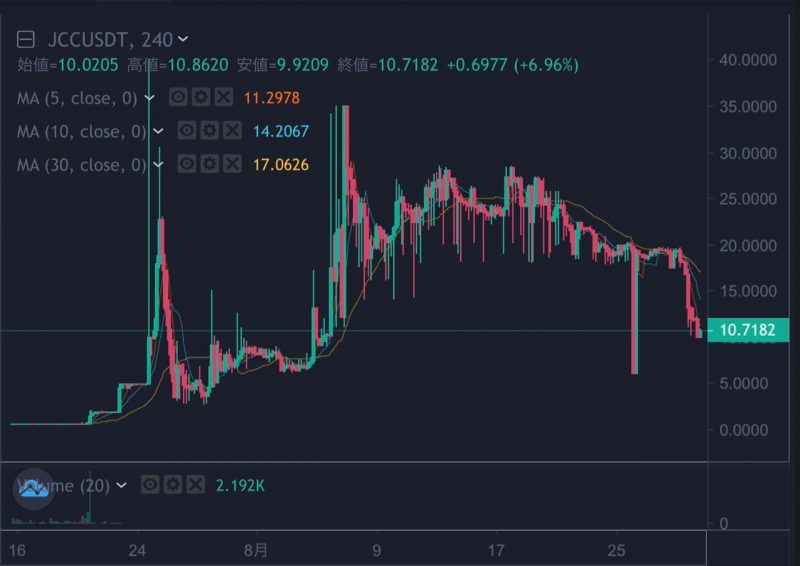 JCC listed on WBF exchange on July 15.
The initial price was 0.51USD, the highest price was 40USD.
Then, JCC listed on BiKi exchange on August 19, the listing price was 21USD.
As of August 30, 19:00, the price is 11.5US, it is settled down.
Thanks to your support, it has been a month and a half since the listing, and it has become a rare brand in recent years. JCC has been maintaining 20 times or more from the initial price.
The possibility of JCC is estimated to be over 600USD by 2023.
At present the service has not started yet, and it is only an expected value.
But we are able to maintain a high level.
(normally we estimate the price as 2-5 USD. That is reasonable)
*JCC is the brand best suited for medium- to long-term holding, that is called Gachiho in Japanese.
Considering that it has been listed on the BiKi exchange for 21 USD, it is almost impossible for the price to drop significantly.
Under these circumstances, the price has been settled down to about 11.5 USD since yesterday.
It seems to be the best timing to purchase JCC.
We will also release an original wallet app in this month.
Please look forward to the development of the project in the future.
From the link which is junca Cash website, you can register an account on WBF or BiKi.
You can purchase junca Cash at WBF exchange or BiKi exchange.
Thank you for your continuous support.